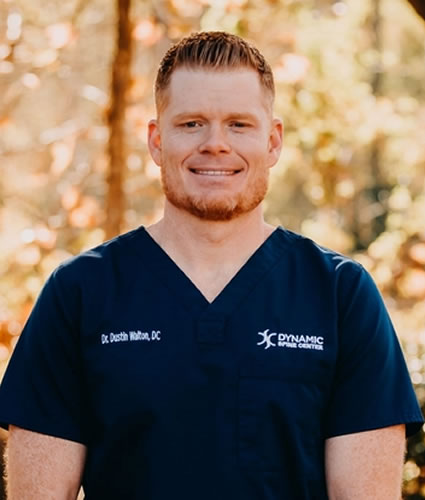 Meet Dr. Dustin Walton
A Love of Sports Leads to Chiropractic
Before attending chiropractic college, Dr. Walton knew he wanted to help people. Growing up playing sports and being an avid sports fan, he saw the many benefits athletes received from chiropractic care, both in helping with their injuries as well as in preventing future problems – it seemed like the perfect fit.
My initial introduction to chiropractic was through sports, but it wasn't until I attended Life University that I realized how much patients from every walk of life could benefit from care.
Choosing a Scientifically-Centered Education
Dr. Walton is a South Georgia native and attended Valdosta State University before attending Life University of Chiropractic in Marietta, GA where he received his Doctorate of Chiropractic. While practicing in Cumming, GA, he started focusing on structural correction of the spine, and Chiropractic BioPhysics . Dr. Walton has over 1500 hours in advanced training and has contributed to research articles. Dr. Walton is the only CBP certified practitioner locally.
I chose to focus on Chiropractic BioPhysics, the most heavily researched, scientifically proven technique because the results are predictable and reproducible.
Living Life to the Fullest
When he's not seeing patients in the office, Dr. Walton and his wife, Kaylyn, focus on healthy living. They both love CrossFit and focus on nutrition to maintain their health.
They also love going to church, traveling and are huge college football fans. Dr. Walton's mother is a breast cancer survivor, so he and his wife actively support the Susan G. Komen Foundation.
Get to Know Dr. Walton Today
Dr. Walton is in our Peachtree City office Monday-Wednesday! Give us a call today to find out how we can help you!
---
Dr. Dustin Walton | Dynamic Spine Center