Dynamic Spine Center in Peachtree City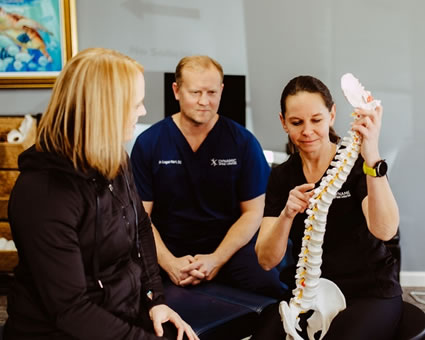 Dr. Dustin Walton

 and Dr. Logan Hart opened Dynamic Spine Center in 2014, located in the heart of Peachtree City and serving the surrounding communities of Fayetteville, Newnan, Sharpsburg, Senoia, and Tyrone. And yes, golf cart parking is available at our office!
We're inspired to constantly learn more about wellness, and we're always educating ourselves on how to better improve your health. We keep informed on the latest in spinal research and care, and are always progressing in our knowledge to serve you with the best.
MEET THE DOCTORS

A Vision for Wellness
Healthcare is changing; chiropractic is changing. At Dynamic Spine Center, we promise to be different from any other healthcare provider.
Our foundation is grounded in research and our focus is chiropractic corrective care through structural rehabilitation of the spine and posture.
Our Mission
It is our goal to improve the health of as many individuals in our community as possible, through a combination of spinal rehabilitation and posture correction.
Healthcare is constantly changing, and so is chiropractic. We use the most up-to-date techniques possible to give you the results you desire. We do the research necessary to make sure we can take great care of you!
Spinal Correction Care
We see many different types of patients at Dynamic Spine Center in PTC. Whether it's a muscular or skeletal complaint or for general wellness, we can help with:
Neck and back pain
Headaches
Numbness and tingling in the hands & feet
Dizziness
Ear infections
Sports performance management
Fatigue
Digestive issues
GERD
Scoliosis
Dr. Walton and Dr. Hart specialize in Chiropractic BioPhysics (CBP®) and Sports Chiropractic to help you achieve your personal best performance.
Find Out More Today
Contact us today to get started on giving your body the advantage of chiropractic care!
---
Chiropractor Peachtree City GA | (770) 876-2229